Who is the Boss of your Social Media Sharing efforts?
You or the Social Media Sharing plugin? (Please tell me you have a Social Media Sharing plugin!)
Do you tell people what to share from your site on Social Media or do you leave it up to them?
You need to be the BOSS to help get your message spread on Social Media. Don't leave it up to the plugin authors. Don't trust the people sharing your content. Take control of your Social Media Shares today!
Not sure what I mean? Here is the best example, and sadly I see it all too often.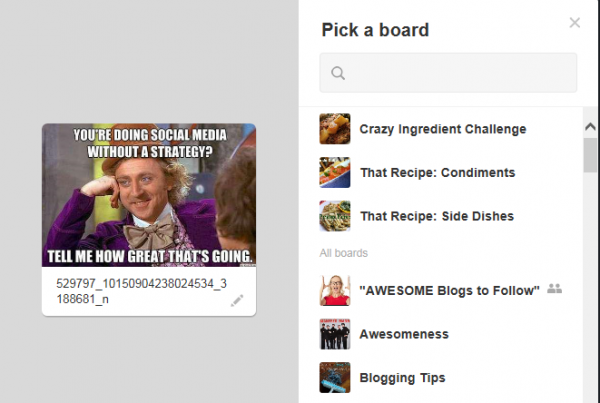 Yeah! Your post was pinned. Happy Dance Time…
But hold on a minute. That is just one pin from someone that came to your site. Who is going to find it on Pinterest to repin it? You know that is how things go viral, right? One person shares on Social Media and then others see it and share it and so on and so on. But with a description like that, who is going to find it to share it? Admit it, how often do you change the text when you pin? Rarely, if ever. And it is the same with other Social Media sites as well.
Social Media Sharing Plugins
I asked it before and I will ask again: PLEASE tell me you have some kind of Social Media Sharing plugin? If you make it hard on people they are less likely to share.
"Oh, but they can just use the Pin It button or Stumble This button in their own tool bar". Yeah, they could if they bothered to download them. But, I am here to tell you not everyone is going to go to that effort unless your content is absolutely AMAZING! And even then, you still want to make it easy for them. People don't want to work too hard.
I use Shareaholic, J-Query Pin-it, Click to Tweet and Yoast SEO because they work with my theme. I found a few others that were nice, but didn't offer Yummly and/or StumbleUpon options, which can drive quite a bit of traffic for me, especially on my food site.
Find the plug-ins that work for you. They should be compatible with your blog theme and offer sharing options for the sites that are most likely to drive traffic back to you. You may need to try a few before you find the one (or ones) that works for you, I know I did. Most are free, with additional features available at a premium. Try them out and see if it does what you want it to do.
Figure Out What is Being Shared
Go to any one of your posts (in another window, of course) and try to share every which way you can. Or at least on the most important Social Media sites for your site traffic. If you don't know what those are, start with Pinterest, Facebook, Twitter and Google Plus
Things to look for
the image – is it grabbing the image you want, or is it just using the first image, or nothing? YES, you need to have an image on EVERY POST if you want it shared on Social Media.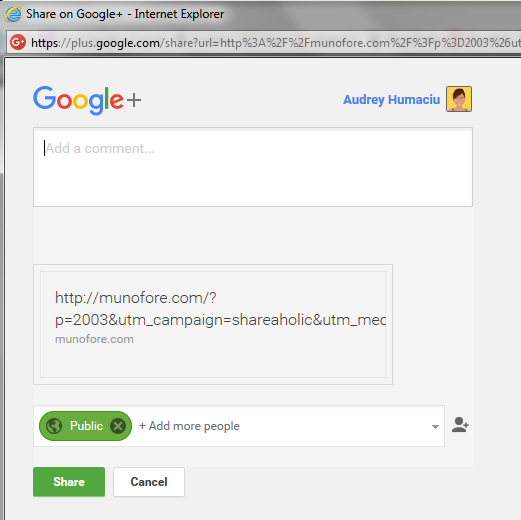 the text – what text is it using? Blog title, first paragraph, image title, image alt description, nothing?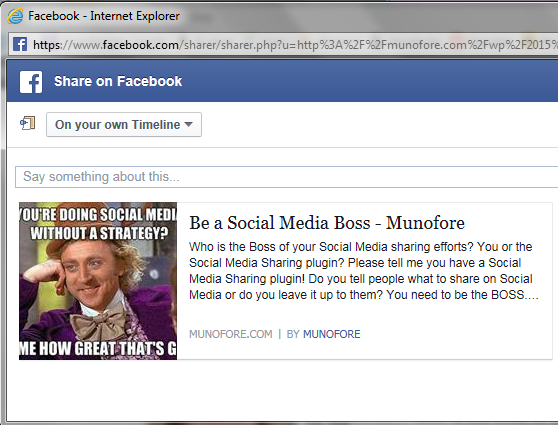 the links – is it linking to the plugin author only, or to your Social Media account?

Adjust Your Plugin Settings
Once you have your plugin chosen, learn how it works. I am not going to outline how to use each and every Social Media plugin for all blogging platforms, it would take days. The best place to get information on how to adjust the setting is from the plugin author's site. If it is too hard to figure out or they don't have an extensive FAQ, you might want to choose another plugin. Just sayin'…
The problem with the bad Pinterest example at the top of this post is that Shareaholic was set to use the "image title", and I had not changed the image title when I uploaded it. I can change it to any of the following options:

You can be simple and go with the Page Title so you don't need to do it every time, but I opt for the "image alt attribute" and place my SEO Text there (which I will explain in a minute).
For Twitter you want to find where to change your "Twitter Site Tag". In WordPress it is in Settings: Sharing. You might also be able to adjust it in your plugin itself. Be sure to enter your Twitter handle so the Social Media Sharing plugins will share your handle instead of theirs.
For Each Post: Set a Featured Image
If you can.
Honestly, I never figured out how to do it on Blogger, but I just did a quick search and apparently some themes allow you to do this. Check with your theme author to see if it is possible. Otherwise it will default to the first image you upload (not necessarily the first image in your post – or at least it used to do that).
WordPress is easy, it is over on the right side when you write your post. Select your image and change the title, alt title and description. I will get to that part in a minute.
I also use Yoast SEO to set images for Social Media if I want something other than the featured image for Twitter, Facebook and G+. I can use a different image size optimized for each one if I want to. But honestly, I don't do it all the time.
When your post is shared on most Social Media sites, this is the image that will be used.
For Each Post: Write Your SEO Text
This post isn't necessarily about SEO, but it is all related to getting traffic to your site. You need to write a Meta Description for the Search Engines to find you. Oftentimes, when sharing on Social Media, the site will pull the Meta Description for the text. If you don't fill it in your text will be blank or will use the first paragraph of your post. Do a search to find out where to change this for your posts (I use Yoast SEO).
This is when you put on your best Marketing Hat and try to get people excited about your post using relevant keywords and descriptions.
Once I write the text in the Meta Description box, I copy and paste it into Yoast SEO on the "Social" tab, and into the description and alt attribute of ALL of my photos.
ALL of the photos? A bit overboard? Maybe. But, with most Pinterest Sharing plugins the Pinner is given the option of every photo on the post, and I want to "suggest" the text they use no matter which photo they share. Food Bloggers tend to use a lot of photos per post, this may not be an issue if you only have one image.
Ultimately the Sharer can change the text, but as we know from our own personal experience, people are often lazy and will take what you give them.
Yes, this is going to take some time, especially to choose and set up the Social Media Sharing plugin. But, if you do it right you will see an increase in shares from your site and re-shares on the various Social Media sites which should result in an increase in traffic back to your site. And isn't that we are all after?