I've been blogging for about 3 years but I've just started treating blogging as something beyond an online journal read by my mom and 6 other people. My "semi-serious" blogging is a pretty new thing, so take me with a grain of salt. I'm still learning.
Social media is your friend…
If your goal is to get a sponsor, agent or publisher, you have to show that people read your stuff. Great writing is not enough and yes, the time you spend promoting your blog on social media will cut in to your writing time, so plan for that. Branch out beyond Facebook and Twitter. I use these plus Instagram, Tumbler, StumbleUpon and Pinterest.
There are tons of articles out there on maximizing different social media. For example, I might only share a blog post once on my personal Facebook page but I might share it twice on my Facebook Fan Page or 4 times during the same day on Twitter. Develop a strategy and plan for what, how and when for posting to social media.
Other bloggers are your friends…
Competition is part of life, but people, there are about a gazillion trillion users on the internet.
Someone in another blogger's audience might really dig what you write about and become one of your regular readers. And don't be territorial! It's like the old shampoo commercial where I tell 2 friends and she tells 2 friends and she tells 2 friends. If you don't remember that commercial that means you're not old and I am! If you do remember it, you get super cool bonus points from me. But seriously, I owe most of any blogging success I've enjoyed to other bloggers. No joke.
I have peer bloggy friends and mentor bloggy friends. As a sorta—just-starting-out blogger, I like having buddy bloggers who are newbies like me. I also like having a lifeline to more established bloggers. You know, the ones I'd see as "out of my league" if we were talking about dating. Blogging networks, such as the IBA, are great places to build close relationships.
Organization is your friend…
I currently have a writing schedule that is separate from my social media schedule. I normally write in the mornings before everyone else wakes up. I live in a house of early risers so this requires some discipline on my part to get up and get at it. And, I have to be uber quiet because if my kids wake up while I'm trying to write, forget it. If I try to combine writing and kid watching, bad things happen. They might slather body lotion on my Kindle and pretend it's a baby. This. has. happened.
I normally do my social media stuff on my lunch break or after the kids are in bed. I hit Facebook and Twitter every day, but I might only look at other social media a couple times a week.
I have a blog reading list and schedule. I know that sounds soooo dorky, but I do. There are some blogs I read every day and some I read once a week or only once a month. The blogs I read more regularly are blogs I find to be similar to mine that are doing well.
I keep my writing organized by topic and cross referenced to when they were published and where they were submitted. I'm currently using folders on my computer and an Excel spreadsheet to track everything. I keep pictures used on my blog or things I share with my social media audiences saved in a subfolder.
I have weekly and monthly blog "to do" lists that I keep in a notebook. If you are high tech (I'm not) there are programs, and gizmos to help keep you in a state where you perceive yourself to be organized (which means you probably are not). Here's a shot of what I've got on my to-do list for the week: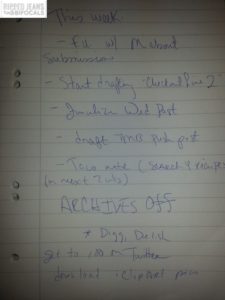 This is a list of things I need to write and people I need to connect with; reminders to check out new social media options (Digg and Delicious); admin tasks (figure out how to turn off my stupid archives) and download stock photos; and a goal (more Twitter followers). It helps me to have a plan versus flying by the seat of my britches but everyone is different.
Getting organized and getting (and staying!) social are my best nuggets of advice, from the new-ish blogger's perspective. Mad writing skills and unlimited quiet time to write are nice, too, but a girl's gotta start somewhere!
About the author:
Jill blogs about post adoption life and random mom topics at Ripped Jeans & Bifocals She has been a featured poster on BlogHer and Bloggy Moms and is a 3-time recipient of the "Meanest Mom Ever" award. She loves wine, running and Lily Pulitzer (not all at once), picking up after all the sloppy males in her household and pointing out the fashion mistakes of others.