Welcome to Part 4 of the Branding your Blog Series. We've talked through a mood board, the fonts, your logo and header. How have you been enjoying it so far? Does your blog feel more like home now? I hope so! Now that we've gotten through that part of your new branding strategy, let's talk about branding your social media. Yes, your social media should be branded too!
What does branding your social media mean?
Each social media channel has a profile that you have to set up, each profile has a header and a profile photo. It is important that these headers and profile photos represent your brand so that your social media profiles and your blog can be linked to you on equal terms.
The most common social media channels that bloggers use are Facebook, Twitter, Pinterest, Instagram, Google+, Stumbleupon, and Linkedin. If they do video then also YouTube or Vimeo.
Some bloggers make a Facebook Page for their blog to build community with their readers, share their blog posts and posts from other bloggers that interest them. Just like Facebook, a blog can have a page on Google+ and a company page on Linkedin. Twitter only has one kind of profile so you can either have one personal and one for your blog or you can have one profile that works for both. Instagram now has business profiles but if your blog is not a business (yet) you can use a personal profile to promote your blog as well.
[clickToTweet tweet="Social Media headers and profile photos represent your brand so they should match your blog #SMTips" quote="Social Media headers and profile photos represent your brand and should linked to you on equal terms."]
The Profile Photos
Some people use their photo and some people use their logo as the profile photo. It's really up to you how you use the profile photo but there are some people that say that using your logo as the profile photo takes away from the personal human connection. If you do use your logo as your profile photo, make sure it fits nicely in the circle. Logos with the edges cut off just look terrible.
The Social Media Headers
All your social media headers should be branded and just like your logo and blog header you can either make them yourself or hire a designer to make them for you. Most graphic designers that work with bloggers and social media offer packs of headers for your convenience.
When creating your Social Media Header make sure it is correlative with your blog, it could even be a different sized version of your Blog Header. What some bloggers do is promote their freebies and sign up lists on their headers for extra visibility.
Canva is my favorite online editor for making Social Media Headers but some bloggers like Picmonkey or even photoshop and illustrator. Header sizes seem to always be changing making it hard on us bloggers to keep up with the new proportions.
Here is a great resource for you from one of the best blogs about social media; Louise Myers. She made this updated cheat sheet just this October. I always go back to her blog for updates.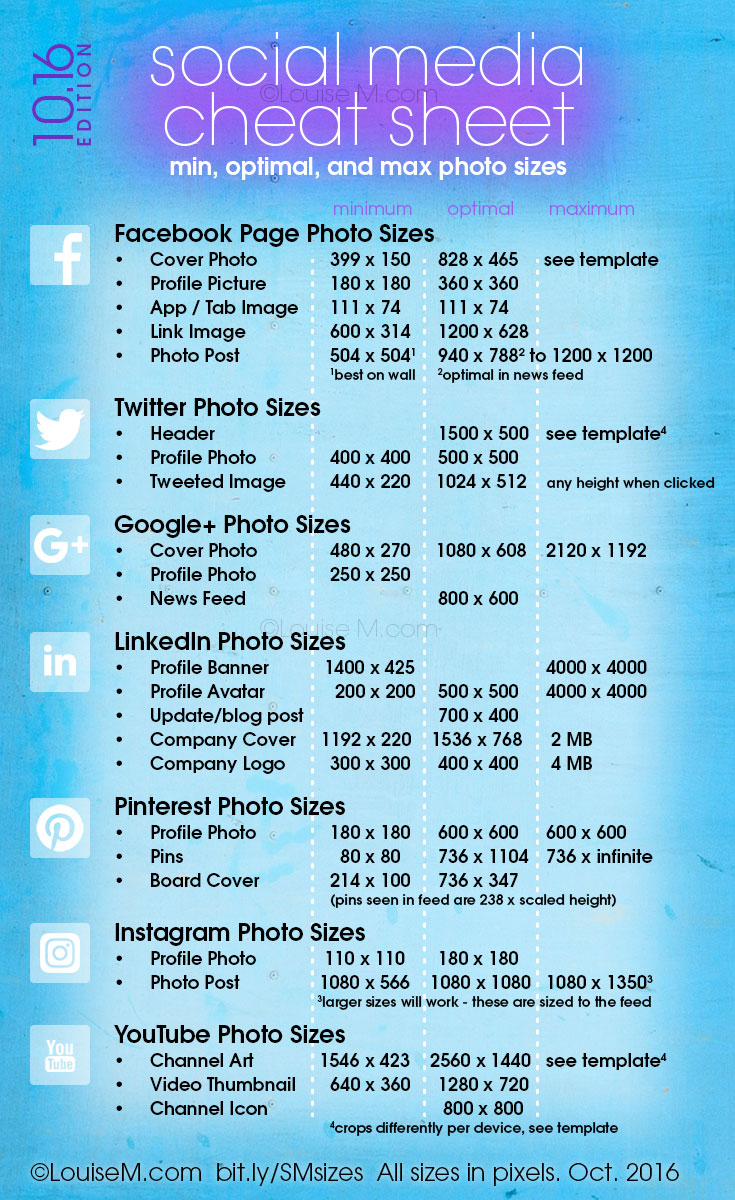 In this Branding Your Blog original IBA four-part series we've walked through everything you need to know to brand your blog — a mood board, the fonts, your logo and header, and branding your social media. Now your blog should feel should feel like home! Does it?
The IBA is always here to help you make your blog awesome! Join us here and then leave us a comment below letting us know what you'd like to learn more about. How can we help you take your blog to the next level? You never know, your ideas might spark our next original IBA series! 🙂
Read Other Posts in this Series
Branding your Blog Part 3 – Logo and Header – Everything You Need to Know!