IBA Board Member Audrey Humaciu of That Recipe uses just a few simple ingredients to whip up this easy Sausage and Mushroom Pasta Sauce for a hearty flavorful meal for your family in less than 30 minutes.
This pasta sauce was one of the best I have ever had if I do say so myself. And it was just thrown together without a recipe with what I had in the kitchen.
I resisted the urge to add any spices to it, relying solely on those in the Italian hot sausage. It was hard for me, but the sauce didn't need it in the end. Feel free to throw in some fresh chopped garlic or Italian herbs (parsley, oregano basil, etc.)
Don't like mushrooms? Leave them out or maybe add some bell peppers when sauteing the sausage instead.
Want tomato chunks instead of a smooth sauce? Use stewed tomatoes for one or both of the cans of tomato sauce. It's pasta sauce, not rocket science people!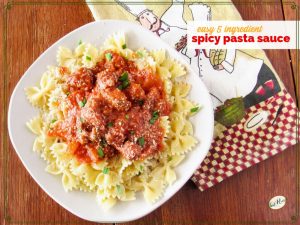 Sausage and Mushroom Pasta Sauce
1 pound hot Italian Sausage links
1 small chopped yellow onion (about 1 cup)
6 ounce can mushroom pieces or fresh mushrooms
2 cans low sodium tomato sauce or stewed tomato chunks or one of each (15 ounce size)
1/4 cup freshly grated Parmesan cheese (plus extra for serving)
1 pound uncooked pasta (spaghetti, farfalle, penne, etc.)
Instructions
Cook pasta according to package directions
Squeeze the sausage out of the casings in large pieces (like meatballs) into a large sauce pan. Turn heat to medium and begin to brown. 
When sausage is about 1/2 cooked, 2-3 minutes, add onions and mushrooms. Continue cooking another 2-3 minutes.
Add tomato sauce and Parmesan cheese, reduce heat and simmer for 15-20 minutes until sauce has thickened. Serve over pasta.