If you're a foodie, you want this shrimp scampi recipe! It's as refined as an elegant night out but faster than the corner take out!
This delicious Easy Shrimp Scampi with Pasta was originally published by Tricia Wehner of Tricias-List.
If you know me, then you know that I talk about, and enjoy two things … A LOT. Those two things are fitness and food. Oh my gosh… I love me some good food! I mean, who doesn't, right? That's why I decided to share one of my favorite EASY dinner dishes with you: shrimp scampi. Its super easy, and quick to make, delicious to eat, and it won't kill your wallet (I promise you).
So… What are you waiting for?
Go take notes, head to the grocery store, get ingredients, and get cooking, people!
[bctt tweet="Click here for a delicious, easy shrimp scampi recipe that's ready in just 10 minutes! "]
Shrimp Scampi with Pasta Recipe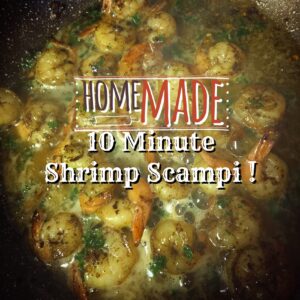 Ingredients for Easy Shrimp Scampi
1 lb of Shrimp (shelled and de-veined)
2 tbsp Olive Oil
2-3 tbsp Butter
Salt
1 tbsp Minced Garlic
1/2 tsp Red Pepper Flakes
1/2 cup White Wine
2-3 tbsp Finely Chopped Parsley
Ground Black Pepper (to taste)
1 tbsp Lemon Juice
Cooking Directions
Heat a sauté pan. Put butter and olive oil into the pan. Heat until butter is melted. After butter is melted, add garlic and red pepper flakes.
Sauté garlic until the edges start to brown, then add shrimp. Add wine, and turn up heat just enough to get the wine sauce to boil. Cook for 3-4 minutes, or until shrimp is cooked all the way through on both sides.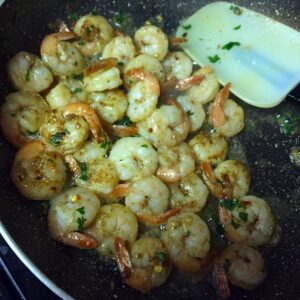 Remove pan from heat. Add parsley, lemon, salt, and black pepper, making sure that you toss the ingredients to blend in with the shrimp and the sauce.
Serve on top of your choice of pasta. I suggest linguine or angel hair. Or you could use rice, if you choose. ENJOY !!!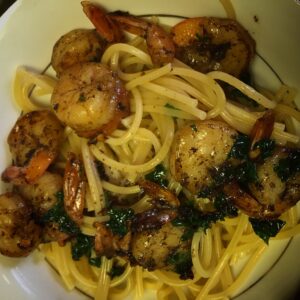 If you'd like to make this quick dish to impress your family or guests, go ahead and pin this delicious shrimp scampi to your favorite "easy recipes board" on Pinterest!
This recipe originally appeared on Tricias-List and all photos are property of Tricia Wehner.